Super Jennie Menstrual Cup Comparison and Reviews
The Superheroine Menstrual Cup
country of origin: us
material: silicone
stem: bulb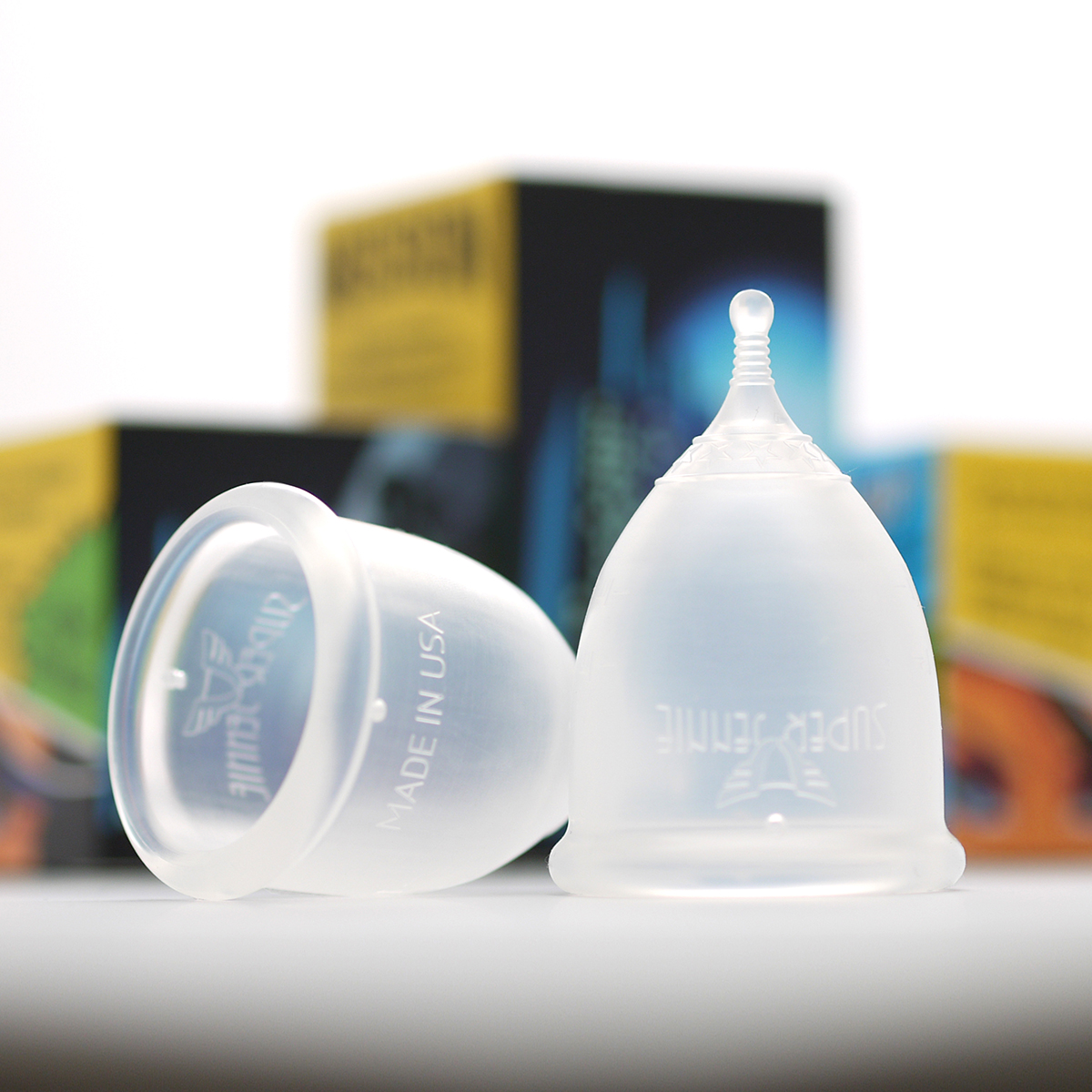 With the field of menstrual cup competitors growing, it was only a matter of time before a super hero themed menstrual cup entered the ring! The goal of the Super Jennie is to make a high quality but affordably priced menstrual cup. Unlike a lot of other economy menstrual cups that skimp on quality, the Super Jennie has focused on creating a well-designed, solid cup at a low price point.
The Super Jennie is a solid cup. And who doesn't want to feel like they finally have a super power– the power to stop their period in its tracks!
Description
Like many other cups, the Super Jennie is made of medical grade silicone in the familiar bell-shape.
Ease of insertion
While the Super Jennie is not as firm as other menstrual cups, users report that they do not have trouble getting the cup to pop open after it has been inserted, nor do they experience any leakage.
Click here to learn how to insert your menstrual cup
Ease of removal
The short stem and ridges along the bottom of the cup should be sufficient to make it easy to remove. It has airholes around the upper rim which will allow you to break the suction which keeps the cup in place.
Click here to learn how to remove your menstrual cup
Sizes
It comes in one size, large, and on the scale of menstrual cups, it is much larger than most. That may be a concern if you are worried about the amount of space you have, but it would be a boon for those with heavy flow-- it can hold more fluid than practically any other cup on the market.
Firmness
Reviewers tend to comment that it is much softer (less firm) than other cups, meaning that it was more comfortable to wear, but did not have any trouble getting it to pop open after insertion which is a common complaint when a cup is not as firm.
Cleaning
The Super Jennie does have some ridges and engravings which which can catch material but if you pay attention to that you should be able to clean it to an acceptable degree.
Cost
The Super Jennie is one of the lower priced menstrual cups. Unlike other menstrual cups in this category, it is not a rebranding of a much cheaper cup purchased in bulk and repackaged.
Standards
The Super Jennie is not listed under the devices that the FDA has granted 510(k) certification. It is made of FDA-approved medical grade silicone in the United States.
Not sure where to begin? Check out how to choose a menstrual cup or why use a menstrual cup.