Si-Bell Cup Menstrual Cup Comparison and Reviews
country of origin: fr
material: silicone
stem: ball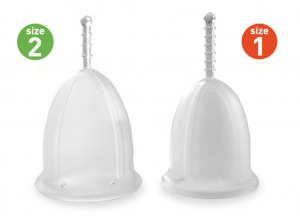 The Si-Bell is a formerlly very common cup which now can be rather difficult to find.
Description
It has the common bell shape, but rather than ridges that encircle the cup to provide grip, it has four "veins" that run from the top of the cup to the bottom and have just a gentle texture. It has a long, thin stem with ridges to help with removal. It is made of platinum silicon, which provides better bacteria resistance and longer life than peroxide treated silicone.
Sizes
It comes in two sizes, small and large, which you should choose based on your age, whether you've given birth vaginally, and the amount of flow.
Standards
It complies with many standards including USP Class VI and FDA.
Not sure where to begin? Check out how to choose a menstrual cup or why use a menstrual cup.