Juju Menstrual Cup Comparison and Reviews
The Australian Menstrual Cup
country of origin: au
material: silicone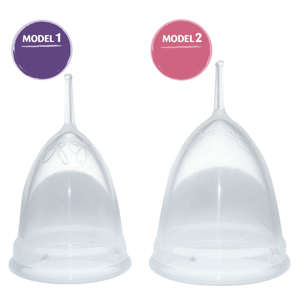 The Juju company, founded in 2009, is dedicated to the mission of helping women embrace their period as a sign of fertility and health. It's named after the West African rituals of magic and power.
Description
The JuJu is a bell-shaped clear menstrual cup made of medical-grade silicone. It has a ridge around the top and a thin, long, tapered stem which may be more comfortable for some and may make it tougher for others to remove. The smoothness and flexibility of the cup should make it easier to clean.
Sizes
Like many other menstrual cups, it comes in two sizes: one for women who have ha a vaginal birth and one for women who have not (which could be influenced by a number of other factors like age, pelvic floor tone, cervical position, and virginity.
Not sure where to begin? Check out how to choose a menstrual cup or why use a menstrual cup.