Bella Cup Menstrual Cup Comparison and Reviews
country of origin: kr
material: silicone
stem: tapered, ridged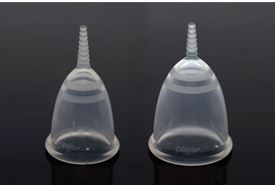 Convenient, cost-effective, and environmentally friendly, the Bella Cup is a great alternative to wasteful tampons and pads. Based in Korea, it is one of the few brand-name menstrual cups produced in Asia and may be more easily obtainable there (though you can order it from anywhere in the world).
Description
Unlike most menstrual cups made of silicone, the Bella is a clear cup with no ridges through the cup portion. This makes it easier to keep clean. The stem is wide where it connects to the cup but tapers gently toward the end. The stem is ridged for easy removal. (It is less common, but the ridges on the stem may irritate some women.)
Sizes
It comes in the most common two sizes, one for pre- and post-pregnancy (or women over 30), though you should choose the size that you think will fit you the best.
Firmness
The Bella Cup is one of the softest, most flexible menstrual cups which may appeal to some women while others find that it is harder to keep the cup in position.
Cost
While any menstrual cup will save you money over pads and tampons, the Bella Cup is one of the more economical options even compared to other menstrual cups. The same cup can be reused for up to 5 years.
Not sure where to begin? Check out how to choose a menstrual cup or why use a menstrual cup.